Technology And Equipments
Our one of the biggest strength is the latest technology that we use in each operation. The world class equipments of the reputed companies who are the masters of their fields. The standards of these equipments are globally recognized. Today because of these technology & equipments our production capacity is more than 500 ton per month.
Our Laboratory
We have Fully Computerized Auto Dispensing Laboratory with all Testing Equipments. The products are tested to meet the required quality standards in our Quality-testing laboratory. The lab is fully equipped with the latest testing equipments and checks for Color fastness, Shrinkage, GSM, pH, Pilling, Abrasion, Perspiration fastness, Wash fastness etc.
Laboratory dyeing: The lab is fledged with machineries like; Spectrophotometer (Make: Gt.Macbeth), Lab Auto dye weighing and dispensing m/c (Make: Co Power), Lab padding m/c, Co Power Dyeing m/c, Spectra Vision Light Boxes (Gt. Macbeth), Tumble Washer & Dryer m/c (Make: IFB) etc.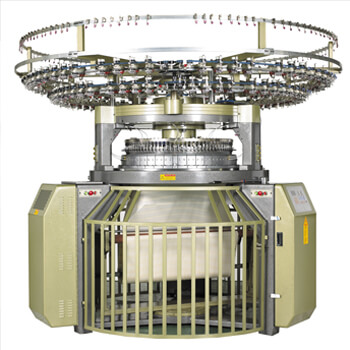 Knitting Machines
We have our state-of-the-art knitting unit at our Ahmedabad & Tirupur base. The Tirupur office exclusively looks after the knitting business. Machines have been imported from reputed companies from countries like Korea, Taiwan & Japan. Even the raw material which is used like the yarn, is procured from reputed mills like Winsome, Vardhman, Nahar, GTN, Rana Polycoat, RSWM etc. We have the capacity to produce Lycra of the highest quality like Cotton Lycra, Viscose Lycra & Modal Lycra. The Knitting capacity at these places is more than 20 to 25 ton per day.
MANUFACTURER : Tubular / Open Width Machines with Lycra Attachment, Auto strippers, Jacquards'.
Brand: Pilotelli, Fukuhama, Fukuhara, Monarch
Dyeing Machines
Our hi-tech dyeing & bleaching plant consists of 28 fully automatic Soft flow machines for uniform dyeing. The machines are from reputed companies like Fongs & Brazzoli, with the output capacity of 600-ton/ per month. The auto dispensing system is from the world famous Arel, Israel. Besides dyeing in HT/HP, irrespective of the quality, the fabrics are kept in a uniform and tension free atmosphere for best results.
Brand: Brand: Brazzoli' - Italy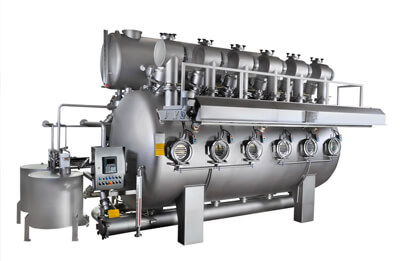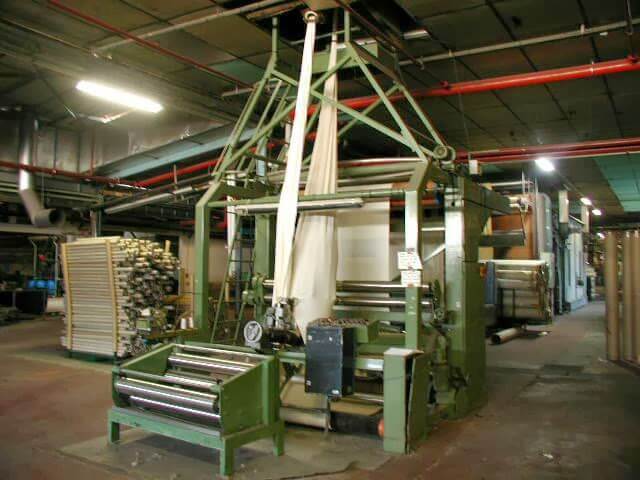 Rope Opener and Slitter Machine
Automatic rope opening and slitting line with turntable, rope squeezer, detwister, adjustable frame (from 2 to 6 mts.), beater, slitting basket, dogal, squeezing padder and reel platier.
Brand: Bianco - Italy
Tubular Mercerizing Machine
This machine is special used for mercerizing the cylinder type cotton, cotton & polyester weft knitted fabric to improve luster, sizing percentage and strength.
Brand: MCS - Italy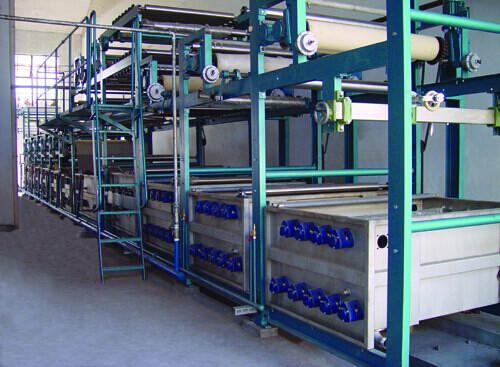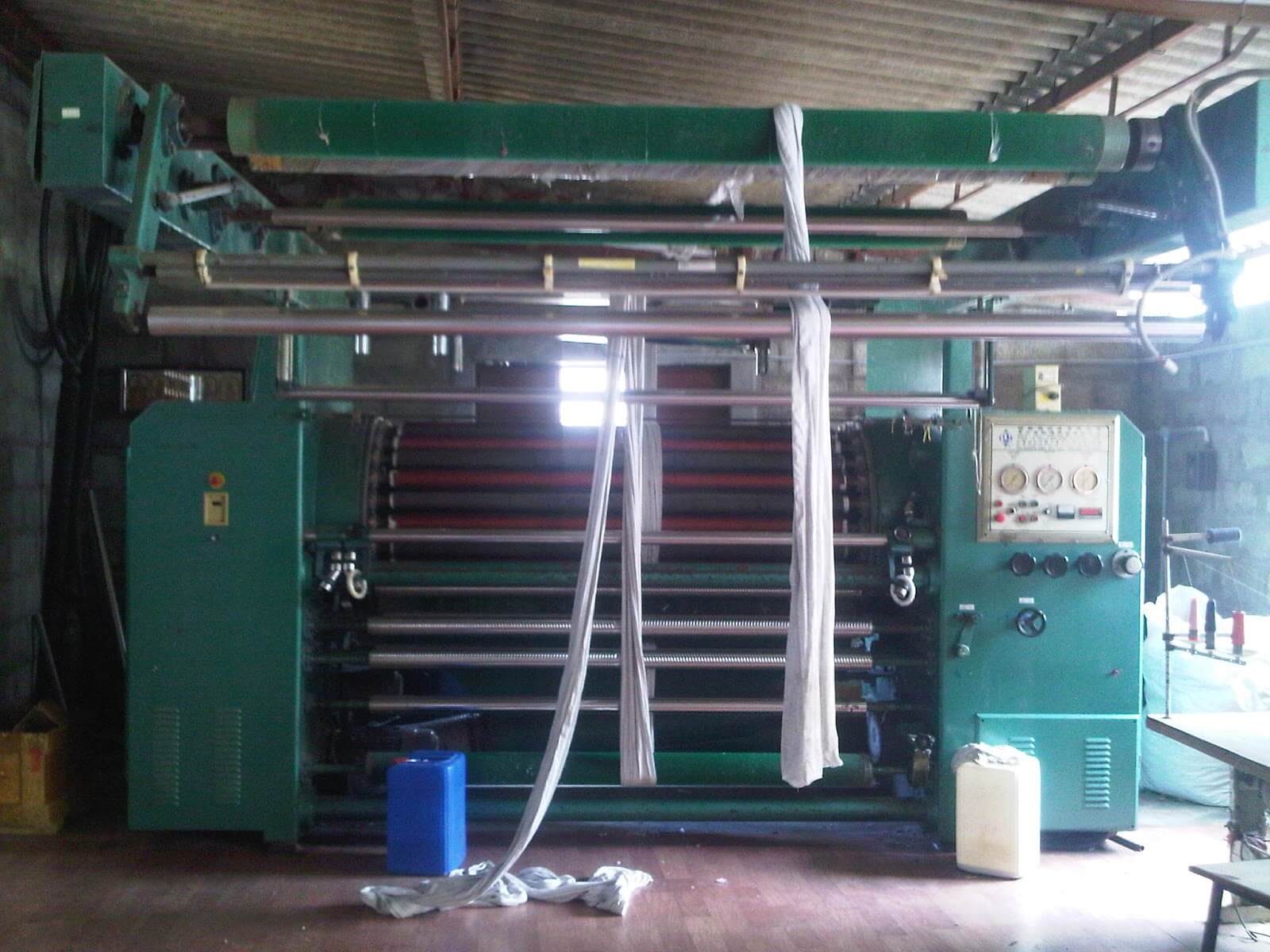 Relax Dryers
Leveling, steaming and compacting calendar, for the enhancement and completion of finishing plants for quality knitted fabrics.
Heliot:
1 No. (3 Pass, 3 Chamber Gas-fired)
Capacity : 10 Ton/Day
Heliot:
1 No. (2 Pass, 3 Chamber Gas-fired)
Capacity : 4 Ton/Day
Indigenous:
2 Nos. (Oil-fired, single pass)
Capacity : 6 Ton/Day
Brand: Heliot - France
Tubular Compactor Machines
Compactor is a textile finishing machine which is designed specially for compacting 100% cotton knitted fabric like jersey, pique, interlock, plush, rib and sinker etc. as well as cotton blended fabric in rope form, changing the loft and dimensional stability of the fabric and presenting it to plaited form. Fitted with two felt compacting units which makes it to obtain top quality fabric, with minimized shrinking nature and a soft fluffy hand.
Brand: Ferraro - France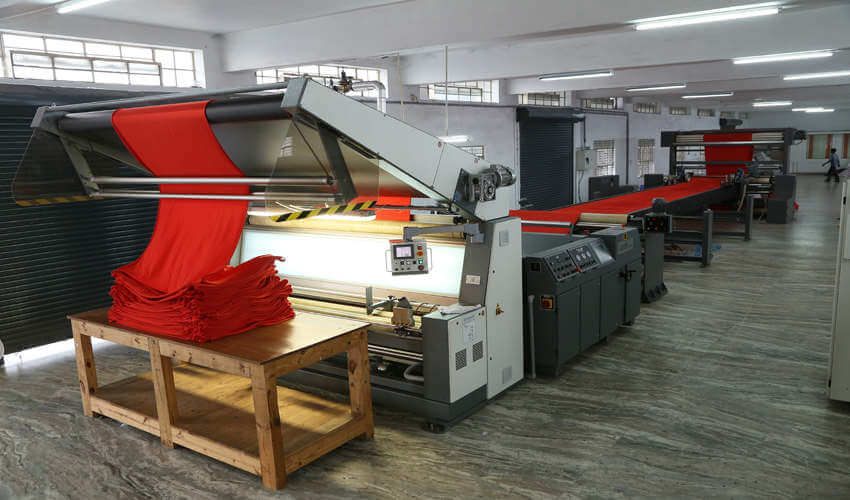 Open Width Compacting Machines
Open compactor is used for compacting the open form fabric. Here, slitting machine is used for open the fabric from the tubular form.

Open Width Compactor is suitable for open width knit fabrics to achieve exact dimensional stability and a soft feel. The machine generally consists of a feeding frame with centering device and driven scroll rollers, an equalizing stenter frame with overfeed roller and brush pinning arrangement.
Brand: Ferraro - Italy Santex - Switzerland
Rotary Printing Machines
We are highly proficient in Printing of Procion (Reactive), Pigment, Discharge, Disperse, Burn-our etc.
Machines : (Incl. Stormac Pegasus OR3' [(12 Colors, Multi Head, Multi Repeat (642, 820, 914, 1018 mm)]
Capacity : 500 Tons / Month
Printing of all types of Fabrics (Single Jersey, SJ / Lycra, Iterlock, Pique, 1x1 Rib, Fleece, French Terry, Velour, Mélange, Mercerized, Cotton / Lycra, Cotton / Denier, Cotton / Spandex, Waffle, Modal / Viscose, Cotton Voil, Silk, Slub and many more)
Brand: Stormac Pegasus OR3 - Holland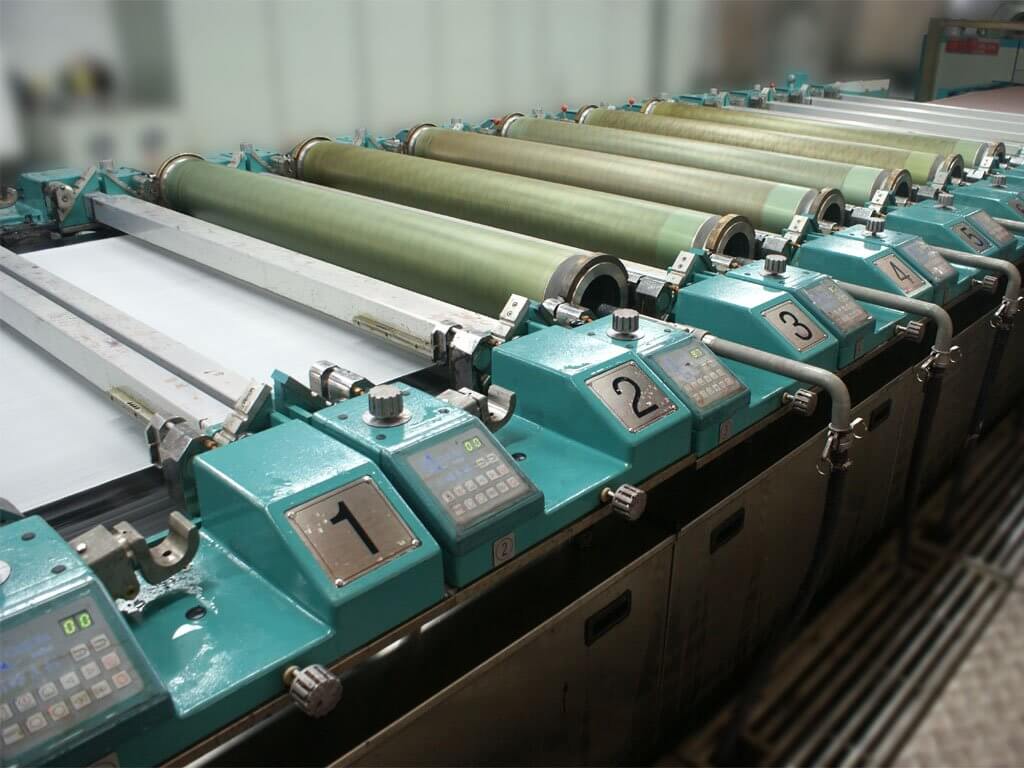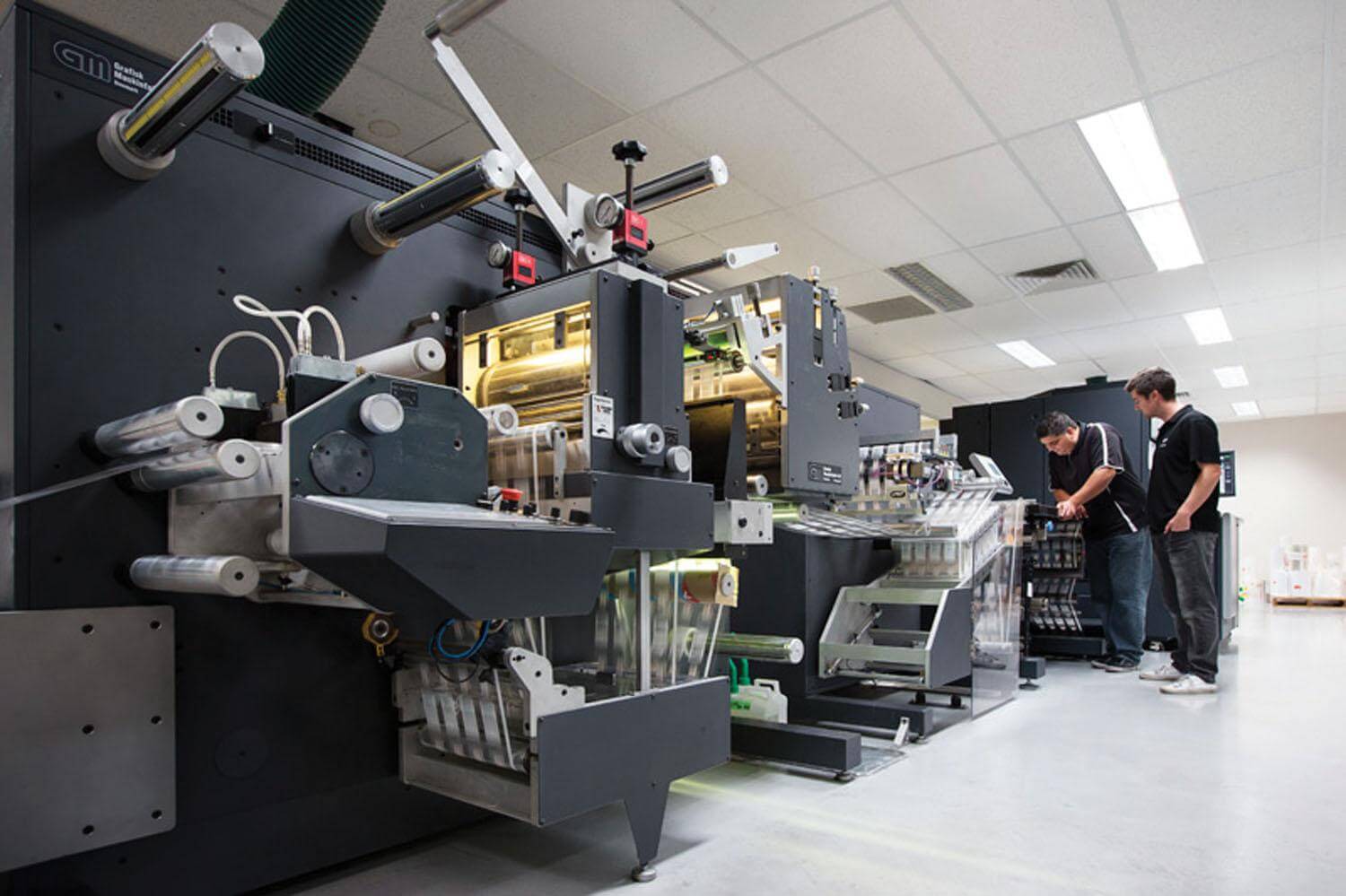 Rotary Roll & Flat-bed Laser Exposing Machines (CHT)
To get the better Rotary screen-printing result, the exposing of the screen should be much better than the conventional method of exposing. Exposing is more famous which we have installed for good efficiency and sharpness according to the requirement of exporter's artwork. It has multiple facilities to produce extra large garments.
Brand: CST (Rotary) - Germany, CST (Flat-Bed) - Germany
Loop Steam Ager
The machine is used to color-fix and bake for the fiber after being dyed, it applies for synthetic fiber, chemical fiber, knitted fabrics and non-woven fabrics. Also many kinds of dyestuffs are applicable,
Brand: ARIOLI Steamer, Italy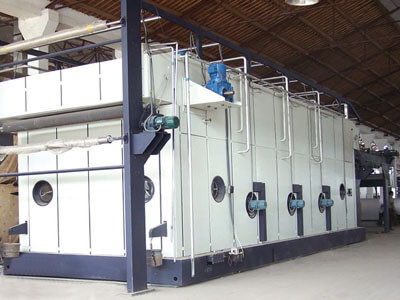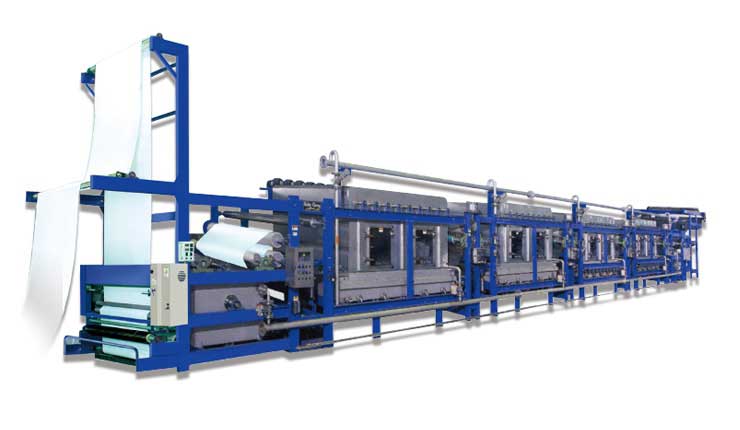 Colour Fixing & Open Width Print Washing Machine
Washing performance is a result of fabric type, water quality, water flow, production speed, liquor exchange rate and temperature.

Open width washing machine is the only one equipped with exclusive VIBRO washing system with two drums in a compartment. The system consists of specially shaped impellers in every drum in which water jets uniformly h it the full fabric width.
Brand: ARIOLI, Italy
Digital Textile Printing Machine
Digital textile printing is described as any ink jet based method of printing colorants onto fabric. Most notably, digital textile printing is referred to when identifying either printing smaller designs onto garments (t-shirts, dresses, promotional wear; abbreviated as DTG, which stands for Direct to Garment) and printing.
Brand: Mimaki Engineering Company Ltd.